December 8  2014

Dear Aswat and Zawaya friends,
As we enter the holiday season, I find myself very grateful to be a member of the Zawaya board.Zawaya has been progressively focused on achieving its mission of preserving Arabic music. This year alone Aswat performed Khaliji music from the Arabian Peninsula (see http://vimeo.com/110217606) , Syrian Quduud from Aleppo (see http://vimeo.com/aswat/aleppo ), Abdel Halim Hafez songs from Egypt (see http://vimeo.com/aswat/halim ), Folk songs from Palestine, and Debkeh dance (see http://bit.ly/1vCCt9c)
Another way Zawaya preserves Arabic music is by keeping it alive through teaching and performing it to diverse audiences in the Bay Area. This year Aswat's ensembles have performed to audiences in Marin, San Francisco, San Leandro, San Mateo, San Jose, Berkeley, Oakland and Seattle. By reaching out to many communities, Zawaya fulfills its mission of communicating the beauty of the Arabic culture through music, the universal language of the soul. We have heard from our audiences that our entertaining performances are trans-formative, healing and inspire reflection.
In an effort for Aswat to continue their high quality performances and to expand their reach, Zawaya is embarking on the ambitious goal of relating its story in a documentary film that can be shown more widely on a national and international level. It is the Zawaya board's vision that this documentary will assert the Arabic arts as part of the rich mosaic of the Bay Area artistic voices. By focusing on the founders of Zawaya and the members of Aswat ensemble, the film will emphasize the universal human experience of longing for community and understanding.
On behalf of the Zawaya board, I thank you for your support for our past fifteen years of programming and invite you to join the campaign for making the Aswat documentary a reality. We encourage you to consider making a portion of your annual tax-deductible contributions to Zawaya. By supporting the making of the Aswat documentary, you will be amplifying Aswat and your voices to be heard by a wider film and documentary audience all over the world.
This campaign is seeking to raise $10,000. Your financial contribution will be your vote to affirm and celebrate the fifteenth year of the uniquely positive Aswat community. As always, Zawaya is all-inclusive and continues to invite you to take part in the fun, regardless of the size of your contribution. No donation amount is too small. Please make out your tax deductible donation check to Zawaya and mail it to 311 41st Avenue, San Mateo, CA 94403. To donate online, please click the PayPal link below.

Ever so grateful and wishing you safe and joyous holidays,
Suzanne El-Gamal, President
________________________________________________________________________________________________________________________________________________
311 41st Ave, San Mateo, CA 94403
Tel: 415-261-1128 Email: zawaya.admin@gmail.com
www.zawaya.org www.facebook.com/aswat.ensemble www.youtube.com/aswatzawaya
Board of Directors
Suzanne El-Gamal, President
Haya Shawwa Ben-Halim, Vice President
Ali Mouline, Board Member
Duraid Musleh, Board Member
Hussein Moustapha, Board Member
Tarek Hashem, Board Member
Federal Tax ID # 68-0532370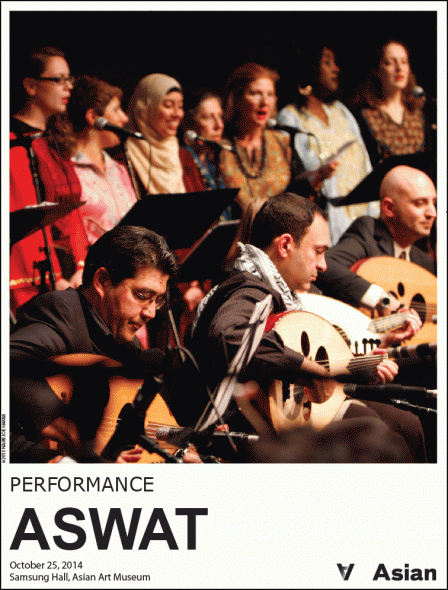 For more information:
Email:  zawaya.admin@gmail.com
Phone: (650) 504-5965
Zawaya and Aswat invite you to join us on Sunday, November 16, for an interactive musical event and concert directed by virtuoso violinist, multi-instrumentalist and singer, Younes el Makboul.
Learn to sing, play Arab percussion instruments, and participate in Arab dance circles with the Aswat Youth Ensemble and other artists from the Bay Area's premier Arab music ensemble in a performance in Samsung Hall, 1:30-3:00 p.m.  Admittance is free with museum admission.
The youth will captivate your musical senses – and your visual senses, too – wearing costumes from the Arab world. Performances will include a recitation of the Qur'an (tajweed) and culminate with a presentation of sacred songs by the Aswat Sacred Music Ensemble.  Lebanese artist Rana Mroue will respond to questions from the audience.
Zawaya is a nonprofit organization that contributes Arab arts to the multicultural discourse of the Bay Area. Zawaya means "aspects" or "corners," suggesting the many art forms to be discovered and enjoyed in Arab culture. The group was founded in 2003 by Nabila Mango and Haya Shawwa Ben Halim, two Arab-American women who recognize the creative response Arab-American communities need to meet the challenges they face in the Bay Area. Aiming to address stereotypes and misconceptions, Zawaya offers a genuine image of Arab-Americans as a source of strength for American society.
True to Zawaya's commitment to pluralism and inclusion, Aswat, meaning "voices," is a multi-ethnic group exploring classical, contemporary, and sacred Arab music. Aswat's doors are open to all who want to participate in the enriching exchange between Arab-Americans and other communities through music.
To learn more about both Zawaya and Aswat, visit www.zawaya.org.