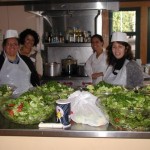 When: Saturday, November 15, 2003 – 5:00-9:00 PM
Where: At the "Tenderloin Children Playground Building"
570 Ellis between Leavenworth & Hyde. San Francisco.
For Whom: For the Tenderloin Muslim families and their children.
Program: The event will include a free Iftar, a recitation from the Holy Quran, Al-Maghreb prayer, and a musical performance by "Aswat" The Bay Area's Arab Choir. At the end of the evening, we will distribute a gift to each Child and one to each family.
---