Bassem Youssef LIVE in the Bay Area!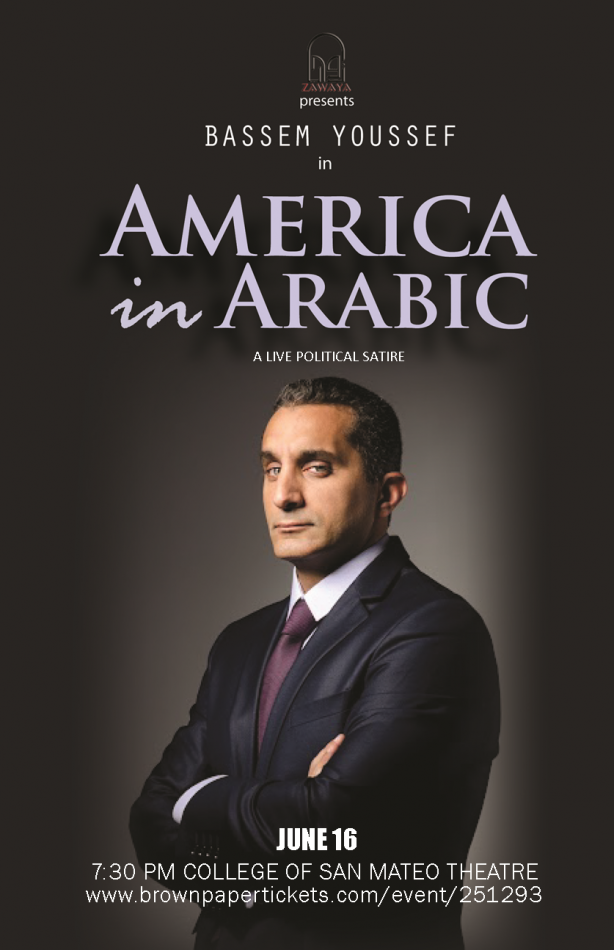 This *LIVE* political satire features Bassem Youssef, an Egyptian TV host and political satirist, who has become famous throughout the Middle East. His show, first entitled as the 'B+ Show' and then 'El-Bernameg (the Program)', received wide acclaim, leading to over 50,000,000 downloads off of his YouTube channel. He is also a cardiothoracic surgeon who assisted the wounded in Tahrir Square during the 18 day uprising that led to the resignation of then Egyptian president Hosni Mubarak. He has been profiled throughout the Arab press, al-Jazeera, the Guardian (UK) and Bloomberg Businessweek (USA).
http://www.guardian.co.uk/world/2012/may/08/egyptians-programme-blasphemous-tv-satire
http://www.businessweek.com/articles/2012-03-29/bassem-youssef-egypts-jon-stewart
http://www.youtube.com/watch?v=VeQLhiY5ZGw&feature=youtube_gdata
Tickets now available on  http://www.brownpapertickets.com/event/251293
Guests include:
Comedian Sammy Obeid (http://www.rooftopcomedy.com/comics/SammyObeid)
Comedian Mo Na (http://www.youtube.com/monadoesfunny)
Sword Martial Artist Osama Nasser
Multi-instrumentalist Mohammad Nejad (http://www.nbc.com/americas-got-talent/video/michael-nejad/1401883)
The Aswat Women Ensemble (www.zawaya.org)
Event proceeds will benefit the Egypt Cancer Network 57357 and AFNCI (ECN).