Aswat Concert June 3rd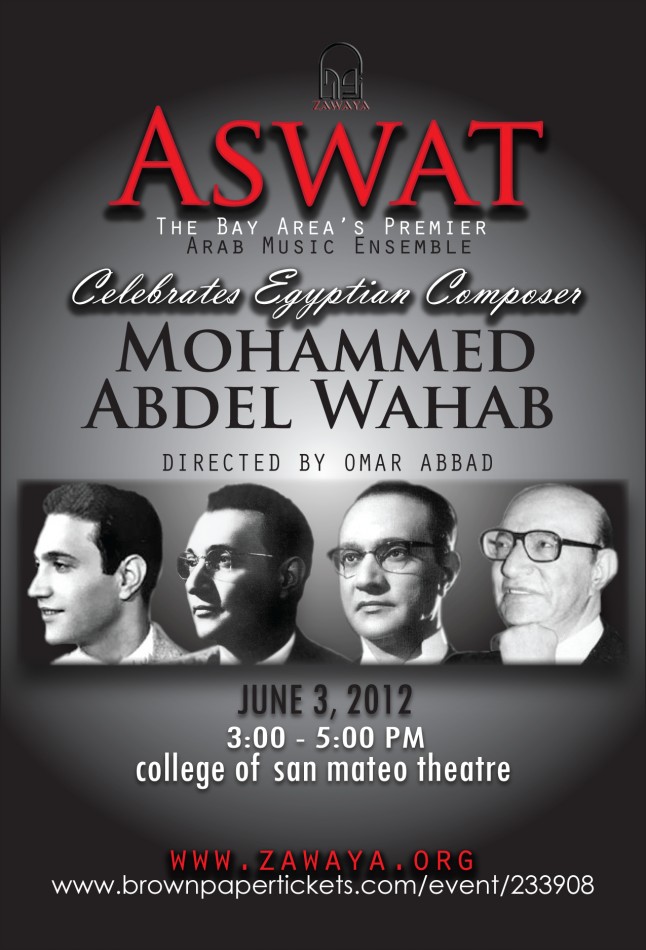 On June 3rd, Aswat brings you a concert celebrating the work of musical genius, prolific composer, and innovator Mohammed Abdel Wahab (1899-1991).
Abdel Wahab reshaped the musical landscape of the Arab world in the twentieth century, a time when the relatively new and unremitting onslaught of Western culture and ideas posed a challenge to Arab identity not only in politics and economics, but also in art and music.
It was in this charged atmosphere that Abdel Wahab dared to confront the question of Arab identity as it related to the ascendant, colonizing West through music.  The result was a staggering body of work spanning a lifetime that came to reflect Arab self-perception and aspirations.
Despite unassailable credentials in traditional, classical Arab music, Abdel Wahab nonetheless brought innovation to Arab music by incorporating the use of Western instruments and rhythms in his arrangements and compositions.  While this seems commonplace today, it was avant garde when Abdel Wahab first decided to do it.
Regardless of purist criticism, Abdel Wahab's music ultimately provided the soundtrack for a generation that negotiated a new world in which they desired to retain and maintain their Arab identity alongside their love affair – even if deemed illicit – with these new, if invasive, Western forms.  How else could his music have spoken so effectively to the Arab world?  How else could it have stuck in Arab hearts and minds if it were not giving expression to who they were and how they felt?  And stick it did.
Roughly 20 years after Abdel Wahab's death, his music lives on as classics in their own right in the Arab world.  Aswat pays tribute to Abdel Wahab on Sunday, June 3, 2012 at the College of San Mateo Theatre.  Directed by Maestro Omar Abbad, the program includes Abdel Wahab's instrumental compositions, the songs he composed and sang himself, and songs he composed for other singers, demonstrating Abdel Wahab's growth and development throughout his career.
Tickets on sale now at www.brownpapertickets.com/event/233908
The program likewise includes an Arab folk music medley, an 'oud and guitar jam, a performance by the Aswat 'Oud Ensemble, and the Aswat Women Ensemble.
About Arab music:
Arab music contains an array of emotional spaces not found in Western music tradition.  It is highly decorated with little frills, and, in songs, combined with long complex phrases sung by Aswat vocalists who pause not for a breath.  Instrumental pieces are intricate, requiring talent and skill as it involves Taqasīm (improvisation) in which musicians transition from one maqām (melodic mode) to another, and then modulate back to the original maqām.  Aswat percussionists and qanūn (zither) players have gained admiration in concerts from this transitional modulation.
About Arab Folk Music:
"Wisdom," quotes historian Philip K. Hitti, "has alighted on three things: The brain of the Franks, the hands of the Chinese, and the tongue of the Arabs."  Perhaps the most notable of Arab civilization's achievements is its strong oral tradition, which is responsible for the transmission of Arab folk songs through the ages without the use of music notation.  Arab folk songs have no known composers, and are shared by Arab peoples across borders or regions and across time with variations in lyrics that reflect specific conditions as well as collective memory.  Themes include such subjects as love, love for homeland, the village, immigration, peasant life, weddings, religious customs, love for family.  The musical styles likewise vary due to the interaction between Arab civilization and other civilizations, resulting in that process of cross-fertilization that spawns new forms or variations on old forms throughout human history.  The folk songs Aswat performs in this concert are but a small sample of the vast collection of folk songs handed down orally from generation to generation in Arab civilization.
About the Musical Director:
Omar Abbad's musical direction is informed by decades of a life immersed in Arab music.  He holds a Bachelor of Arts in Musicology, specializing in 'Oud, from Jordan Academy of Music and a Masters of Arts in Musicology from Yarmouk University in Irbid, Jordan.  He founded and conducts al-Nagham al-Aseel, and composes and arranges for such groups as Awtar Amman Ensemble and Children's Ensemble for Arab Music in Jordan.  He has conducted various University orchestras and ensembles, including the Jordan Academy of Music Ensemble and al-Hannouneh, which specializes in Palestinian folk music.  Famous Jordanian singers are no stranger to him as well.  Omar has conducted the likes of Macadi Nahas, Ayda al-Amerkani, and Lara el-Layyan.  His musical talent and expertise have brought him to Europe, and now to the United States.  The first Aswat concert he directed was one of Aswat's most memorable and successful: Salute to the Youth of Egypt & Tunisia in February 2011.  He returns this year to conduct Aswat for another season.
About Aswat:
The musical voice of Arab America in the Bay Area is ASWAT, the Arab Music Ensemble sponsored by Zawaya. True to Zawaya's commitment to pluralism and inclusion, Aswat is a multi-ethnic and multi-racial music ensemble that reaches out to the diverse Bay Area community with folkloric, classical, and contemporary Arab music. Now on its 12th year anniversary, Aswat's doors remain open to all who want to participate in the exciting, enriching exchange between Arab Americans and other communities through the universal language of music. For more information about Aswat, please visit www.zawaya.org.
About Zawaya:
Zawaya is a non-profit organization that seeks to contribute to the multicultural discourse of the Bay Area with the Arab arts. Zawaya means "aspects" or "corners", suggesting the many art forms to be discovered and enjoyed in Arab culture. It was founded in 2003 by Nabila Mango and Haya Shawwa Ben Halim, two Arab-American women who recognized that the challenges faced by the Arab-American community in the Bay Area requires a creative response. With Zawaya, they sought to give the Arab community a voice, including a musical one. Aiming to address the stereotypes and misconceptions, Zawaya offers a positive image of Arab Americans and their rich civilization, which can only be a source of strength for American society. To learn more about Zawaya, please visit www.zawaya.org.
After online sales have ended, tickets will be available at the door on a first-come, first-served basis.
At-the-door ticket prices:
General:  $25
Preferred:  $40
Silver:  $55