Save the Date: June 3, 2012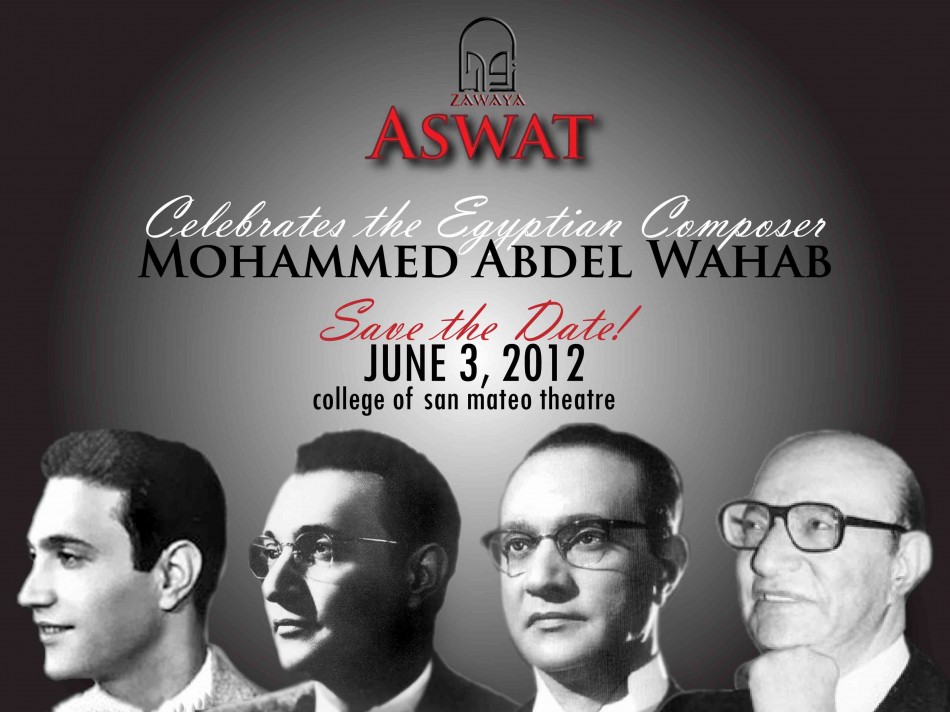 This summer, Aswat brings you a concert celebrating the work of musical genius, prolific composer, and innovator Mohammed Abdel Wahab (1899-1991).
Abdel Wahab reshaped the musical landscape of the Arab world in the twentieth century, a time when the relatively new and unremitting onslaught of Western culture and ideas posed a challenge to Arab identity not only in politics and economics, but also in art and music.
It was in this charged atmosphere that Abdel Wahab dared to confront the question of Arab identity as it related to the ascendant, colonizing West through music.  The result was a staggering body of work spanning a lifetime that came to reflect Arab self-perception and aspirations.
Despite unassailable credentials in traditional, classical Arab music, Abdel Wahab nonetheless brought innovation to Arab music by incorporating the use of Western instruments and rhythms in his arrangements and compositions.  While this seems commonplace today, it was avant garde when Abdel Wahab first decided to do it.
Regardless of purist criticism, Abdel Wahab's music ultimately provided the soundtrack for a generation that negotiated a new world in which they desired to retain and maintain their Arab identity alongside their love affair – even if deemed illicit – with these new, if invasive, Western forms.  How else could his music have spoken so effectively to the Arab world?  How else could it have stuck in Arab hearts and minds if it were not giving expression to who they were and how they felt?  And stick it did.
Roughly 20 years after Abdel Wahab's death, his music lives on as classics in their own right in the Arab world.  Aswat pays tribute to Abdel Wahab on Sunday, June 3, 2012 at the College of San Mateo Theatre.  Directed by Maestro Omar Abbad, the program includes Abdel Wahab's instrumental compositions, the songs he composed and sang himself, and songs he composed for other singers, demonstrating Abdel Wahab's growth and development throughout his career.