Aswat Concert at Fairfax Redwoods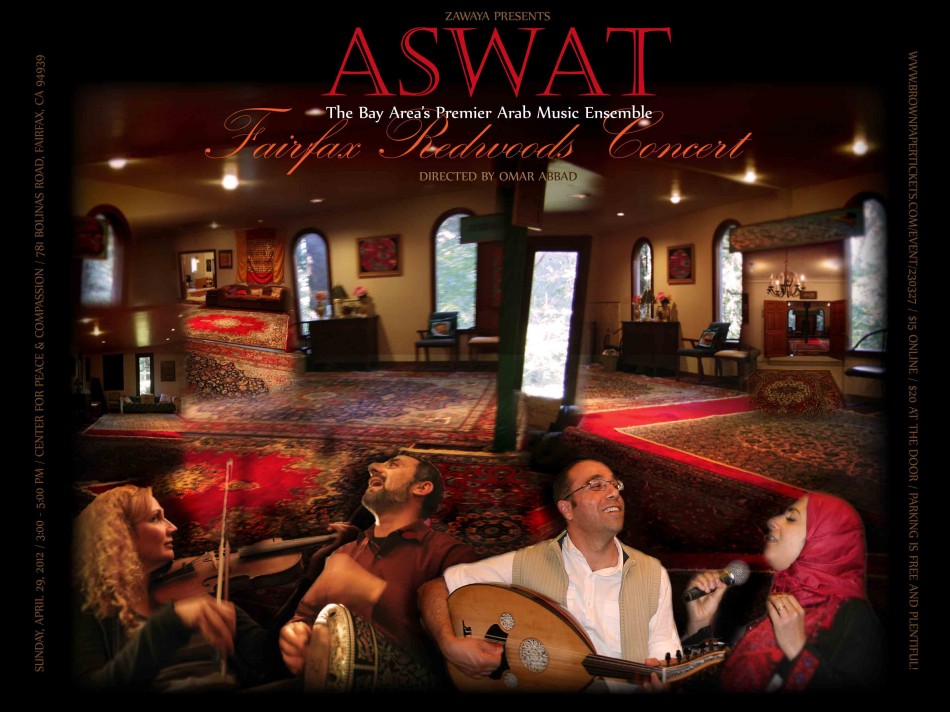 Let Aswat take you on an enchanted musical trip deep into Marin's Redwood forest, a mere half-hour drive from San Francisco.
Experience the opulence of Arab music in a quaint forest cottage at The Center for Peace and Compassion, where Thoreau's Walden and Isfahan's Ālī Qāpū Palace meet.
Aswat's live music, coupled with the Center's intimate setting and Eastern opulence, kept warm and cozy by an antique wood-burning stove and Persian rugs, and completely enveloped by the majesty of a Redwood forest is a sensory smorgasbord that one won't soon forget.
Date:  Sunday, April 29, 2012
Time:  3:00 PM – 5:00 PM
Venue:  The Center for Peace and Compassion, 781 Bolinas Road, Fairfax, CA 94939
Tickets Available at https://www.brownpapertickets.com/event/230327
Online tickets:  $15
Tickets at the door:  $20
*This unique Aswat venue requires that shoes be taken off at the door, and that you take your seat on the fine Persian rugs layered on the floor.*
*Parking is FREE and plentiful!*
About Arab music:
Arab music contains an array of emotional spaces not found in Western music tradition.  It is highly decorated with little frills, and, in songs, combined with long complex phrases sung by Aswat vocalists who pause not even for a breath.  Instrumental pieces are intricate, requiring talent and skill as it involves Taqasīm (improvisation) in which musicians transition from one maqām (melodic mode) to another, and then modulate back to the original maqām.  Aswat percussionists and qanūn (zither) players have gained admiration in concerts from this transitional modulation.
About the Musical Director:
Omar Abbad's musical direction is informed by decades of a life immersed in Arab music.  He holds a Bachelor of Arts in Musicology, specializing in 'Oud, from Jordan Academy of Music and a Masters of Arts in Musicology from Yarmouk University in Irbid, Jordan.  He founded and conducts al-Nagham al-Aseel, and composes and arranges for such groups as Awtar Amman Ensemble and Children's Ensemble for Arab Music in Jordan.  He has conducted various University orchestras and ensembles, including the Jordan Academy of Music Ensemble and al-Hannouneh, which specializes in Palestinian folk music.  Famous Jordanian singers are no stranger to him as well.  Omar has conducted the likes of Macadi Nahas, Ayda al-Amerkani, and Lara el-Layyan.  His musical talent and expertise have brought him to Europe, and now to the United States.  The first Aswat concert he directed was one of Aswat's most memorable and successful: Salute to the Youth of Egypt & Tunisia in February 2011.  He returns this year to conduct Aswat for another season.