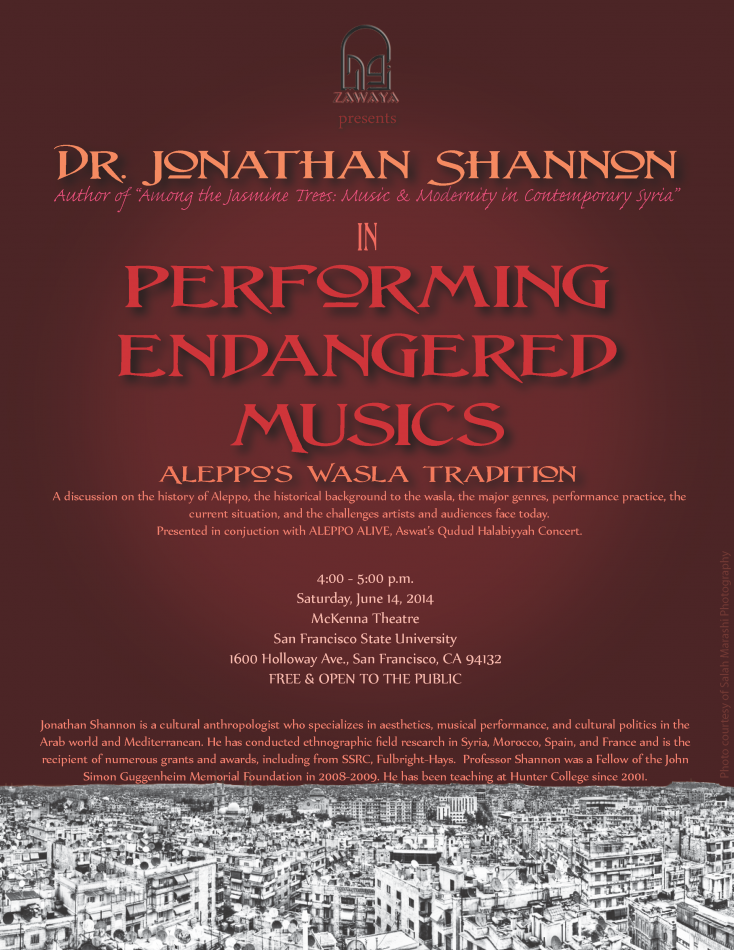 Complementing and preceding the ALEPPO ALIVE concert on June 14th is a lecture by Syrian music expert Dr. Jonathan Shannon titled "Performing Endangered Musics: Aleppo's Wasla Tradition". The discussion will be about the history of Aleppo, the historical background to the wasla, the major genres, performance practice, the current situation, and the challenges artists and audiences face today. Definitely an enriching talk that will help us all understand the musical heritage that we tragically stand to lose with the destruction of Aleppo. FREE & OPEN TO THE PUBLIC!
4:00- 5:00 PM
Saturday, June 14, 2014
McKenna Theatre
1600 Holloway Ave., San Francisco, CA 94132
FREE & OPEN TO THE PUBLIC
About Dr. Jonathan Shannon
Jonathan Shannon is a cultural anthropologist who specializes in aesthetics, musical performance, and cultural politics in the Arab world and Mediterranean. He has conducted ethnographic field research in Syria, Morocco, Spain, and France and is the recipient of numerous grants and awards, including from SSRC, Fulbright-Hays. Professor Shannon was a Fellow of the John Simon Guggenheim Memorial Foundation in 2008-2009. He has been teaching at Hunter College since 2001.
He is author of "Among the Jasmine Trees: Music and Modernity in Contemporary Syria".
For more information about Dr. Shannon, please visit: